Great Reset
Blockchain Powered Financial Reset, & the "Healthcare Crisis" Robert F Kennedy Jr , Catherine Fitts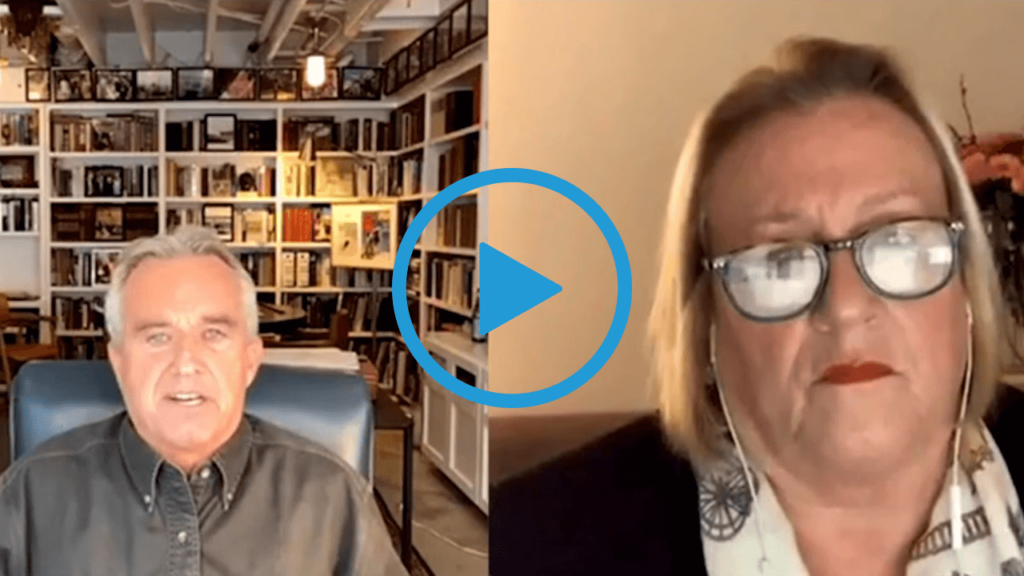 Watch ➥  LIBRY  |  Brighteon  |  BitChute |  DailyMotion |  BrandNewTube
Catherine Austin Fitts
I came across Catherine Austin Fitts because of this interview. I can't vouch for the content at this point. It's simply on my radar for strong consideration. Sharing ≠ Endorsement. However it does appear to tie into what Eric Weinstein (Managing Director, Thiel Capital) said in January 2019, what billionaire Peter Thiel (Founder, Thiel Capital) said in July 2019, and Martin Armstrong ("one of the most famous economic forecasters") said in November 2020.
Blog to Email
Join 7689 other subscribers
Information without censorship. One email, most days. No Spam.
Lockdown & Collapse Economy for Free World Bank Money
Robert
You had a lot of developing countries and who clamped down – lockdown down, even when they weren't having crises and the president of Belarus told the world, the "WHO told me that" or "the World Bank told me that" they would make all this free money in debt freedom that's available to us, but only if we collapsed our economy. And Belarus refused to do it. All the other countries took that deal and now, you know. So those with… Is that a scenario that makes sense to you?
Catherine
Yeah, so it's part of it. In August 2019, the central bankers who meet every year in August in Jackson Hall, approved a plan called the "going direct reset" and the fed went into the market in September after that plan was approved.
Robert
Wait, what was that plan called?
Catherine
It's called "going direct reset" and I would strongly recommend you take a look. If you look at my – state of our currency which I think I sent you, it gives you a chronology of what the central bankers have been doing in terms of re-engineering. Because what they're looking for, you're right, they don't want to do another financial crisis bailout, attributing it to the banks but it's bigger than that because they want to permanently re-engineer the currency and financial system so that they get on more… not more stable ground, but on ground which gives them more control.
Dollar Reserve Currency & "Health Crisis"
Catherine
Everything you said is true, is correct, but it's part of something that's even bigger. So coming out of the financial crisis the world was very dissatisfied with the dollar trade system globally because that system is increasingly being used with sanctions to control, and so if you're growing economies and you need currency to trade, and the currency you need to use is instead being used to sanction and control, there tensions grow so there's been more and more tension around the dollar reserve currency ,and what is happening with the "health care crisis" is it's being used to keep the dollar reserve system going, at the same time it's being used to accelerate in a new financial system based on cryptos and trying to get away from all cash giving the central bankers even more control. So you're looking at a fundamental re-engineering whereby the central bankers are trying to get permanently out of the problem they're in, and part of that means reducing the parts of the economy that support populism.
November 25, 2020

"YOU'RE LOOKING AT A FUNDAMENTAL RE-ENGINEERING WHEREBY THE CENTRAL BANKERS ARE TRYING TO GET PERMANENTLY OUT OF THE PROBLEM THEY'RE IN, AND PART OF THAT MEANS REDUCING THE PARTS OF THE ECONOMY THAT SUPPORT POPULISM."
Intent to Leave Democracy
Catherine
Although the financial management laws have gotten more and more sophisticated, the government has gotten further and further in violation of all of them, and has gone essentially dark. So we have passed many different provisions or adopted as an administrative matter, many administrative positions that keep the majority of the government secret and dark, and I believe one of the reasons the central banks are trying to do this reset is not just because of the financial cracks you're describing ,but because literally they can't keep the system going without very significant secrecy, and the secrecy has gotten so difficult that they just intend to leave democracy period.
Turning Off or On an Individual's Money
Robert
Tell us the role that digitalizing our currency plan is in this kind of, <inaudible>?
Catherine
Okay, so the digital systems they're talking about going to are not currencies, that's what you need to understand. Crypto is not a currency, it's a credit on the company store. So the IMF just had a panel with on cross-border payments with Jay Powell, Carstens from the Bank of International Settlements, and the head of the IMF and Carsten said this very clearly, it was really, he really let the cat out of the bag.
He said, he was talking with Powell when he explained that if a central banker wanted to, they could stop a non-citizen from transacting in the system. Now what that means is they can stop anybody from transacting in the system, so in essence in an all digital no cash system run by the central banks you've got a credit on the company store and your individual money can be turned on and off or changed in value. They have complete control. So it's not a currency as I would define it. It's a credit on the company's store and your money can be turned on and off according to a social credit system or a political system or, you know, you name it.
November 25, 2020

"YOUR MONEY CAN BE TURNED ON AND OFF ACCORDING TO A SOCIAL CREDIT SYSTEM OR A POLITICAL SYSTEM OR, YOU KNOW, YOU NAME IT."
Robert
Or, if you misbehave, you're… they can starve you to death.
Catherine
Right. And I would describe it as an end of all human sovereignty. It's not a currency system, it's a control system. And it's a complete control system.
Livestock Management System
Catherine
If you look down the road, all these pillars are going to come together and that's why it's essential that we start talking about this on an integrated system because we're talking about two different concepts. One is a human civilization where an individual is a sovereign and I would say has freedom coming to them by divine authority, and another system where it's a technocracy, it's transhumanism, humans are a natural resource to be optimized within the central banking system. It's a completely revolutionary vision that they have, you know, and I live, when I'm in the United States, I live in a farming community and I know a lot because of that about livestock management, and frankly it's a livestock management system.
November 25, 2020

"HUMANS ARE A NATURAL RESOURCE TO BE OPTIMIZED WITHIN THE CENTRAL BANKING SYSTEM. IT'S A COMPLETELY REVOLUTIONARY VISION THAT THEY HAVE"
Fauci and Bill Gates
Catherine
You know, they can say all they want about they're in compliance with the health crisis laws but I can assure you, the money they're using to finance everything they're doing, you know, Fauci's salary is financed criminally, and that to me is one of the vulnerabilities in the death star.
November 25, 2020

"FAUCI'S SALARY IS FINANCED CRIMINALLY"
Robert
And where does Bill Gates fit into all of this?
Catherine
So I think Bill Gates has been, you know, I would describe him as somebody who's been asked by his syndicate to basically promote these ideas and use the foundation to finance them. You know, my guess is, and this is just a guess, is that Gates's rise to fame was really on government contracts and doing things the government asked him to. So, Microsoft was very NSA friendly, and my guess is when he finishes litigation with the department of justice part of the deal was he would go off and do the foundation. So I don't see Gates as being a major decision maker. I could be wrong, but his job is to promote these ideas and finance them etc.
Moving all the Money Out
Catherine
And then he froze and he looked at me and he said "You don't understand, it's too late. They've given up on the country, they're moving all the money out starting in the fall."
November 25, 2020

"YOU DON'T UNDERSTAND, IT'S TOO LATE. THEY'VE GIVEN UP ON THE COUNTRY, THEY'RE MOVING ALL THE MONEY OUT"
And I thought he meant they're moving, they're reallocating the pension funds into the emerging markets, but that fall in fact was the beginning of fiscal 1998 when the 21 trillion dollars went missing, and the fraudulent mortgage securities exploded. And so I literally think what happened in the end of 1995 when they tried to do a budget deal
More Resources: